Long Term Care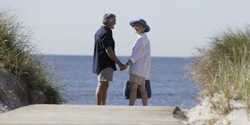 Extended life spans and rising health-care cost, are prompting more people to look at long term care coverage. The likelihood of a person of any age needing long term care as a result of an accident or injury, a chronic illness, or a cognitive impairment is high. According to the US Department of Heath & Human Services, 70% of people over the age of 65 will need some type of long term care during their lifetime, and of those, 51% will need care for up to 5 years. Don't think that long term care is just for the elderly, 40% of the people currently receiving long term care are working age adults between the ages of 18 and 64.
The average cost of care nationally is $204 per day or over $73,000 per year. Long term care needs can place a great financial burden on you and your family, if you are not prepared. This care may be in your own home, assisted living facility, or in a nursing home. Major medical insurance, including Medicare and Tri-Care do not cover long term care.
Long Term Care insurance is designed to be flexible, allowing you to control the cost in relation to the benefits you will receive. These policies can be confusing and customizing the right policy for your family's needs is important. A good policy will help protect your assets and your estate, will give you more control over your future care, and provide peace of mind that you will not be a burden to your love ones.
FOR MORE INFORMATION ON LONG TERM CARE PLEASE CONTACT:
Valerie Wynn
Valerie Wynn specializes in Long Term Care Solutions and is certified by the State of Texas for the new Texas Partnership Plan. She is recognized as one of the top LTC advisors in the country, providing solutions that bring dignity, comfort, and independence without financial burden to you, your partner, or your family.
She represents all major carriers, allowing her to customize programs based on her clients' specific needs. Valerie is able to determine an optimum solution based upon long term care needs, medical history, benefit requirements, and financial circumstances. She is an expert in planning for the cost of long term care, and consults regularly with financial planners, elder law attorneys, benefits managers, and individuals.
Valerie knows first hand the financial impact home health care and assisted living has on a family and became personally interested in educating about the need for Long Term Care planning and protecting family assets.
Valerie Wynn is an expert in family, domestic partner, shared care partner, and company sponsored policies. Licensed by the State of Texas and is available for educational seminars, employee development programs, and tax advantage consultations Long Term Care policies. Her philosophy is finding the best solutions for the clients, custom policy design, and comparing benefits/cost from several companies.
Valerie Wynn

512 796-7680

Valerie@wtexsr.com

2820 62nd Street

Lubbock, TX 79413
*Valerie Wynn is not affiliated with Cambridge and this listing is not an endorsement of her services.